Solid domestic waste is almost the main object of the circular economy. This category includes various types of containers, paper and cardboard, wood, glass, metal, plastic, textiles, broken or obsolete household appliances, as well as agricultural and municipal food waste.
EU Directive 2008/98 on Waste sets out a hierarchy of desirable waste management. The best for the state, region, enterprise or consumer is the first level: prevention of waste generation. This is followed by preparation for reuse. The next levels are the actual processing of waste or their recovery. The last, least desirable, option is the disposal of waste in landfills and landfills. It is usually resorted to only when nothing else can be done. In addition, there is also such a level as burning. In a circular economy, energy from combustion must be put to good use, for example for heating buildings. Otherwise, it will be equated to burial.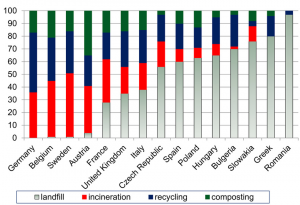 Recycling is especially important because it saves resources. So, if you produce an ordinary newspaper from waste paper, you will use almost ten times less wood, half as much water, five times less electricity than if you produce it again. And by recycling glass, we save 10 times the water, twice the energy, and also significantly reduce the volume of wastewater. It is also profitable to recycle metal (i.e. use scrap metal) – this saves a large amount of resources.
The problem with plastic is that there is a lot of it produced, but hardly recycled. According to the World Economic Forum and the Ellen MacArthur Foundation, out of 78 million tons of plastic produced per year, up to 14% is collected for recycling, and only up to 2% is recycled. At the same time, the savings from plastic recycling are significant. We save at least five times gas, double electricity, and save oil, water and other resources.
According to the European association CEWEP, Germany has the best recycling rates. 67% of household waste is recycled there. Slovenia – 59% and Switzerland – 53% recycle a lot. All EU members are now striving to increase the share of recycled waste. In Ukraine, 94% (!) of waste is buried.
Economic incentives are the basis for organizing waste recycling
One of the economic incentives for recycling and for the functioning of the circular economy in general is a tax on harmful products. It increases the price of harmful products and thus makes ecological products more competitive.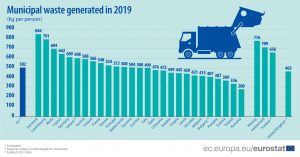 Other incentives include so-called "green" public procurement. According to the definition of the European Commission, "green" procurement is characterized by the fact that the state customer prefers goods, works and services with a limited impact on the environment throughout the entire life cycle in comparison with goods, works and services of the same functional purpose. Thus, the state can support producers of ecological products.
The volume of public procurement in the EU is approximately 14% of GDP (2 trillion euros annually).