Beta Glucans, Prebiotics and Wild Seafood Trends in Healthy Fruits, vegetables, oat products containing beta glucans, wild fish, adaptogens and healthy superfoods will shape the healthy future of consumers. According to FAO and OECD forecasts, fish and seafood production will grow by 1.2% per year, and by the end of the decade, the volume will increase by 23 million tons (+12.8%), reaching 201 million tons.
For vegetables and fruits, the finest hour has come. Over the past five years, leek (+12.5%), celery (7.4%) and artichoke (6.3%) as the fastest growing crops in the world have grown the most in terms of world trade. The artichoke in world trade is a premium segment product. Its main buyer is, as a rule, the HoReCa segment, and in the top three countries the largest producers of artichoke are Italy (440,000 tons), Egypt (260,000 tons) and Spain.
Asparagus, kohlrabi and kale are also on the rise, and berries, especially blueberries, are growing in popularity.
Why is the consumption of these particular products growing? The answer is simple: because they are useful. Kale is considered a real superfood due to its high content of iron, calcium, and fiber. China remains the leader in kale exports, while the United States remains the largest importer. Celery is known as a powerful antioxidant.
There is also a trend to consume less coffee and more – smoothies, as well as drinks based on plant milk – oatmeal, almond, etc. Consumers are increasingly choosing healthy carbohydrates. For example, oatmeal products are rich in carbohydrates. And these carbohydrates are special – they are quickly absorbed into the body, that is, they have a low glycemic index. This creates a feeling of satiety for a long period.
The unique feature of oatmeal is also that it contains a special soluble fiber – beta-glucan, which normalizes blood cholesterol levels.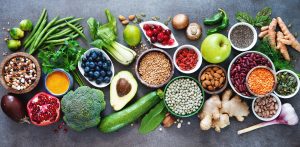 The food market is influenced by the tastes of consumers, and all further development trends follow from what is preferred. At the same time, the higher the level of development of the country's economy, the more buyers strive for diversity in nutrition, convenience and usefulness of consumption.
Production of products for cooking at home & strengthening the position of HoReCa
People want to consume ready-made foods: not pay for waste, to have fish that has been cleaned and prepared for cooking, or vegetables that have been washed and chopped. On the one hand, they experience "culinary fatigue" and are increasingly ordering food from restaurants, on the other hand, there is a growing trend to prepare delicious and at the same time simple and healthy dishes at home. Therefore, various educational interactive cooking platforms have recently appeared, where famous chefs and food bloggers share their own recipes, for example, the Alaska seafood cooking project Easyfish.club or food blogs and video recipes on Instagram and Youtube.
Transformations are happening
Food producers cannot escape the adoption of lean agricultural practices, energy efficient solutions, sustainable packaging, carbon labels on food packaging, and more production of healthy foods to improve diets.
According to FOLU (The Food and Land Use Coalition), all this will generate up to $4.5 trillion a year for new business opportunities by 2030, while the social profit will be more than 15 times the associated investment costs (estimated at less than 0.5% of global GDP).